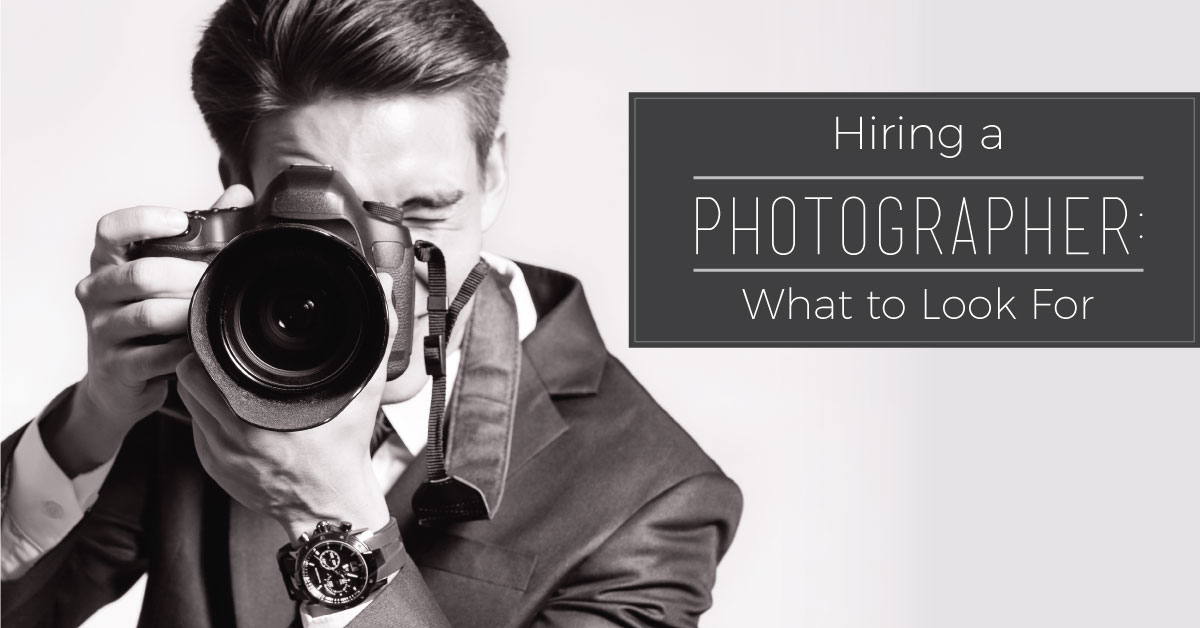 03 Oct

Hiring a Photographer: What to Look For

Alfred Eisenstaedt, an icon of modern photojournalism, once said about his profession that "it is more important to click with people than to click the shutter." The photographer who prioritizes your vision will give you ideas for looking your best that you may never think of on your own. Here is what to search for in this important relationship.
Credentials and Background
Consider your first appointment with a prospective photographer to be akin to a business interview. If you have certain priorities, expectations, or preferences, it is your responsibility to ask the right questions. Make sure you get all of the basics out of the way as a baseline, such as: years in the business, training pedigree, any degrees, awards, and certifications. If you need to create a list beforehand, jot down the things that are most important to you so you, don't forget.
A Portfolio That Fits Your Vision
Even experienced, talented photographers may not be able to capture your vision. You should be able to find something in the portfolio of your chosen photographer that engages you on a visceral level. This means that you have found a skilled professional who also aligns with your personal style.
Fee Inclusion
Make sure you understand exactly what you receive for the fee you pay. If you are looking for many choices, you need to make sure you are paying for the roll, not just final prints. You should also talk about how much editing is included in the base price and whether any high-level post-production will be required.
You should also lock down a timeline for when to expect your images, especially if you are on a schedule. Keep in mind that some photographers may have a queue, so be sure to allow for a proper lead time if you choose a professional who is in high demand.
Written Contracts
Most business professionals will have written contracts detailing all of the particulars for various situations that may occur. Contracts are meant to detail processes and mediate between parties when things go wrong so business can run more smoothly. While a detailed contract can mean an experienced photographer, be sure to read through the content before signing your name.
Vision
Don't be afraid to put your needs out front and see if your photographer has a vision for you. Photography has never been a one size fits all business. No matter how detailed and skilled your chosen photographer may be, if there is no vision for you, you risk losing the authenticity that will make your photos the most effective.
Equipment
While it is true that an excellent camera does not an excellent photograph make, there are times when high-end photographic equipment is of utmost importance. Close-up portraits, like headshots, are one of these times—especially if the image you're creating will be used for professional purposes. Lighting can make or break skin tones and the way shadows accentuate or take away from your picture. The better the lens, the more detail the photographer will be able to focus on, thus drawing attention to the features that best complement your look.  When hiring a photographer, always ask what equipment they use and how important they believe it to be; a good photographer will be proud to show you to show you what they use.
Emotional Stability
The best photographers will remain calm no matter how your emotions move. You may be feeling any number of off-putting emotions; it can be very intimidating to have your image captured so definingly and permanently. Part of your photographer's job is to help you find a calm place so you can be fully authentic. Cameras can capture everything, and the photographer who relaxes you into a natural state will capture the best side of you.
You have about two seconds (if that) to make a first impression that no reality will change. The right photographer is the catalyst for a higher level of engagement with your client or employer, and a niche in a world that is being taken over by visual content. The experts at NYC Headshot stand ready to provide you with professional portrait services that will bolster your image and marketing efforts.