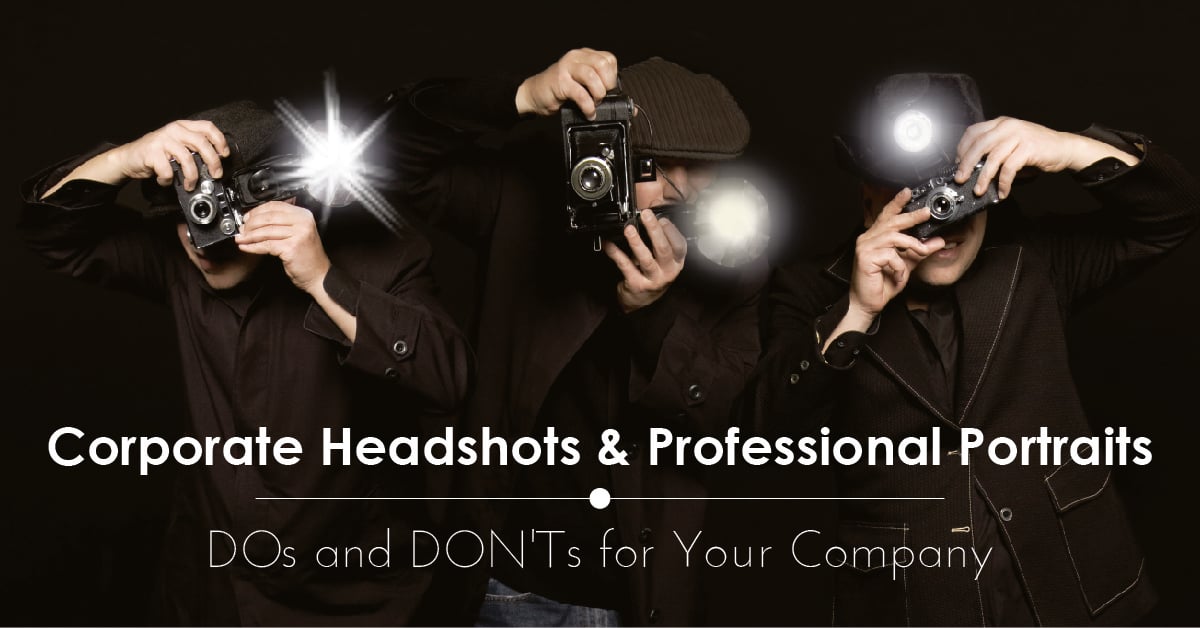 11 Nov

Corporate Headshots & Professional Portraits: Dos and Don'ts for Your Company

People judge your entire personality by your look. It's referred to as the "halo effect"; if people don't like your professional style, they naturally color their opinion of everything else you do with that first impression. In the business world, this is an important thing to consider when displaying and promoting images.

Fortunately, the halo effect works the opposite way as well, so it's important to ensure that your corporate or personal headshots are polished and professional.  

To help, here are a few DOs and DON'Ts for your company to keep in mind when it comes to creating the perfect first impression.
DOs for Your Headshot
Be relaxed and confident. You are showcasing the person you are right now.
Wear clothes that are professional, but also that you are fully comfortable in wearing.

Schedule the photo shoot for a day/time of the week when you're feeling your best, rather than trying to fake smile your way through a bad day.

Authenticity is the key to a great photo, and sitting in your truth will allow a great photographer the ability to create an incredible shot.
Choose timeless clothing for professional photos. No one should ever be able to tell in what decade you took your photo.
Men should pick a comfortable but tailored suit.

Women have many options, including blouse/blazer layers, sweaters, and cardigans.

Both genders should stay away from extreme colors such as bold white or any outer layer with a pattern resembling a grid. Both of these choices create weird effects on camera that the photographer will be hard pressed to fix.
Look your current age. If you are young and confident, you can sell your energy. If you are older and confident, you can sell your wisdom. Someone who is trying to hide who they are will not be able to sell anything
Leave the toupees at home, gentlemen.

Ladies, do not try to cover up every wrinkle.
Trust the photographer. Because you have vetted your photographer before committing to a session, you should be able to trust that person's vision.
Keep in mind that a professional visionary may see something that you don't and ask you to take a pose or try a background that you are initially uncomfortable with. Go with it fully.

You can always scrap the photo later, but during the photo, commit 100% to the suggestion.
DON'Ts for Your Headshot
Your professional headshot should not look like your high school yearbook photo. Any of the cliches that worked here will only work against you in the professional world, where you are expected to have grown into your own personality. If you find yourself with a photographer who wants you to do the head-over-shoulder pose, crop the picture perfectly at your chest line, or open your eyes and smile in a superficial way, run, don't walk, the other way.
You should not try too hard to look "powerful." For women, an overbearing attempt to convey a certain personality can often lead to unfortunate style choices such as shoulder pads or power suits. For men, these mistakes are usually found in uncomfortable looking facial expressions. Being professional means being confident with who you are. Confidence exudes power, so focus on being comfortable with your personality rather than pushing too hard for power.
Rely on retouching to fix poor starting images. Most of the work in photography is done in pre-production and on the actual shoot. If you feel uncomfortable about a shoot, do not look to "fix it in post." There is nothing wrong with the judicious use of Photoshop to accentuate your best features or provide contrast with the background, etc. However, a bad photo will always be a bad photo, and retouching shoddy production work will never give you an elite professional look.
Stay away from too many accessories. No hoop earrings, overly shiny necklaces, or bezel watches. They distract from the main focus (you) and make you appear to be compensating for something.
Do not create the exact same look for everyone in the company. Your photographer may help you decide on a theme for your photographs to provide a bit of professional continuity, but everyone within your company should have the freedom to express themselves within the framework in a unique way.
For the rest of us, we have about 2.8 seconds to make an impression with whoever it is we are trying to impress. As the leading company for headshots in New York, NYC Headshot is ready to give your company the professional portraits that will help you upgrade your appearance.